Updates and thoughts from the Euclid Project Manager
Giuseppe Racca (ESA Project Manager), March 2023
Following the major achievements of last year:
Installation and test of four micropropulsion pressure regulators following several issues;
Repaired NIPS and VIS electronic units which had faulty circuit design, but no failure;
Integration of the High Gain Antenna, Sunshield, Service Module and Payload module;
Procured a new launch vehicle (Falcon9) following the discontinuation of Soyuz and A6 delays;
System test campaign at environmental and functional level, including SVT/SOVTs with the instrument operations, the MOC, the SOC and the IOTs;
Completion of the TBTV test and start of the mechanical tests;
Ground Segment Readiness review showing the readiness to support the launch in July 2023,
the acceptance tests of the Euclid system have continued in the first part of this year 2023
Euclid underwent its final tests
At the time of writing we have completed all the functional and environmental tests (sine vibration, acoustic, thermal-vacuum and electro-magnetic compatibility). The spacecraft is now in its container (see image) where the global leak test of the two propulsion systems (Nitrogen micropropulsion and Hydrazine reaction control system) have been leak tested. The last test is an end-to-end micropropulsion functional test, following which the container is closed, filled and flushed with N2 and temperature controlled until it will be opened again. The transport of the spacecraft and its ground support equipment will be performed primarily by boat with the Colibri of MN (same boat which transported JWST from California to French Guiana). The boat will sail off from the harbour of Savona (I) in mid April and the arrival in Port Canaveral is expected by May the 1st.
In the meantime, the Flight Acceptance Review (FAR) is ongoing. Industry has provided a data package to show that all acceptance tests have been performed according to requirements and the spacecraft is qualified and can be accepted for flight. The FAR will be concluded by a Board meeting to be held on May 12th, when the spacecraft will be already in the Payload Processing Facility of Astrotech in Titusville near the Cape Canaveral Space Force Station and Kennedy Space Center from where Euclid will be launched on a Falcon 9 vehicle.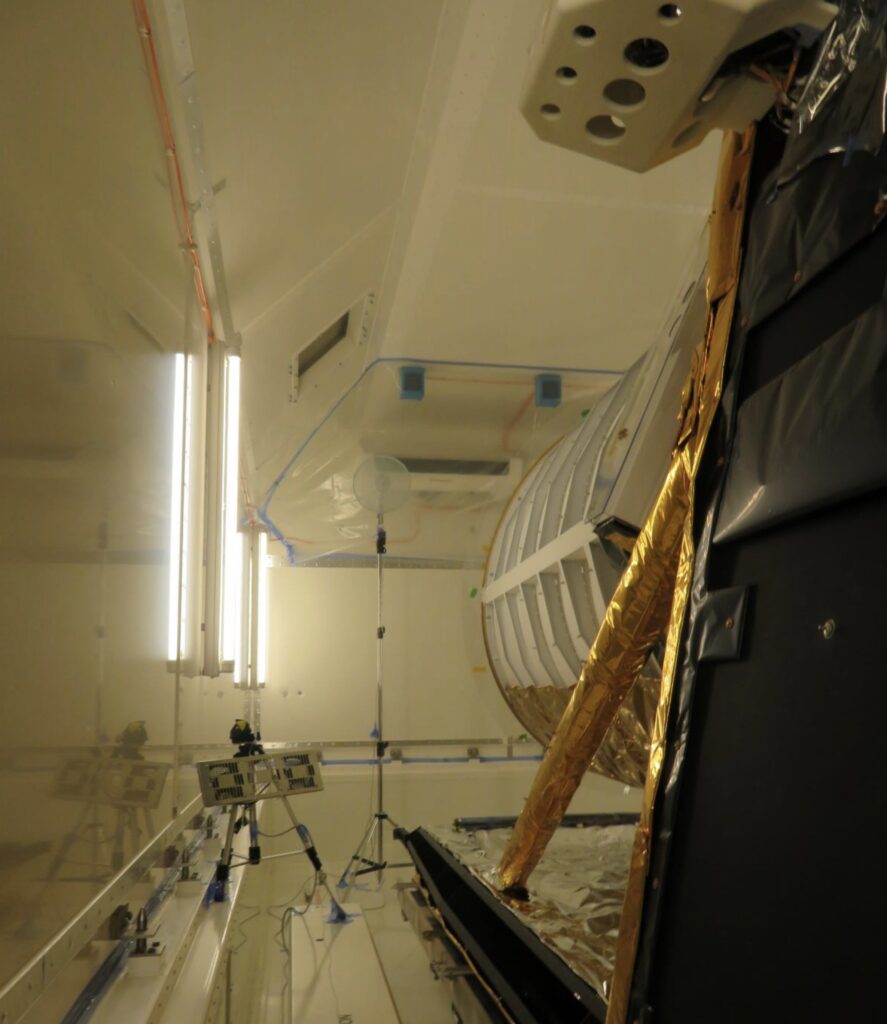 Euclid launch date
The launch interval (7 consecutive days within the launch slot 1-30 July) was determined on April 7th to be from July 1st to 7th, and the launch date was announced to be July 1st during the 2023 Euclid Consortium meeting.